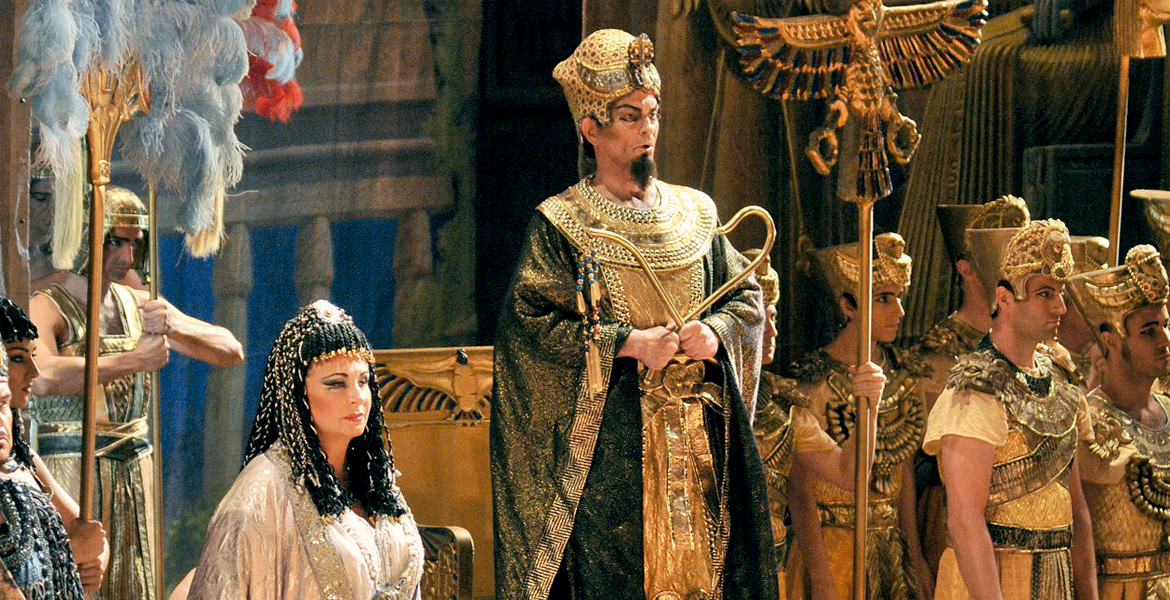 Aida as our parents, grandparents and great-grandparents saw it, set against the hyperrealist scenery designed in 1945 by the Catalan artist from Manresa, Josep Mestres Cabanes. This splendid creation of the great Catalan school of set design emphasizes the grandeur and also the intimacy of Verdi's third-before last opera, remaining true to the historicist tradition without ever lapsing into kitsch.

In his tensely dramatic Aida, the 58-year-old Verdi displays his colossal strength and musical and theatrical savoir-faire to relate the love triangle that causes Aida, Amneris and Radamès to pursue their passion, love and hatred to the very last consequences. The background of Ancient Egypt - the work was written to mark the opening of the Suez Canal — provides the excuse for the grandiose choral and symphonic scenes, which alternate with exquisite arias throughout the extensive score.

The dramatic platform for Aida is a series of oppo-sitions: freedom vs slavery, love vs duty, father vs daughter, and ultimately, desire vs rejection. Characters' dreams of peace and love crash repeatedly against the realities of war and vengeance.
INITIAL RELEASE :

13th January 2020, SPAIN

DIRECTOR :

Thomas Guthrie

LANGUAGE :

Italian

Subtitle :

English, Spanish, French, Italian, German & Catalan
CAST :

Mariano Buccino (The King of Egipt), Angela Meade (Aida), Yonghoon Lee (Radamès)